KORU Values and KORU Kids
TĀKU HĪKOI
Each child now has a copy of Tāku Hīkoi, which is presented as a Google Slide. This digital file will follow them through the school. It is a record of achievements in all areas; KORU values, Academic, Sporting, Cultural and Service to the School. As your child achieves milestones on their journey towards the KKPS Graduate Profile, they will earn Digital Badges. Click here to view example of digital profile.
KORU Slips
KORU slips are awarded to all tamariki who demonstrate the KORU Values as outlined in the KORU Expectations Matrix. KORU slips, certifi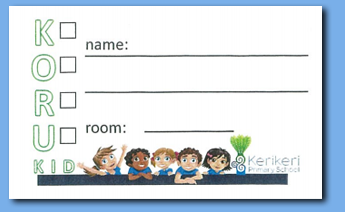 cates and KORU bands are other ways we acknowledge KORU behaviours. We encourage and support whanau to reward the KORU behaviours at home.
KORU Values and Distance Learning
Children are encouraged to show KORU behaviours even when engaged in distance learning. Children are able to earn and be awarded Virtual KORU slips. Contact your child's teacher and let them know about the amazing Koru behaviours that you see at home. Check out the KORU matrix click on image to enlarge.
Kia Kaha – being 'Resilient Achievers'.  'Resilient Achievers' are strong. They are able to be resilient and to confidently persevere and adapt as they strive for excellence in all things.
Owning our Learning – having 'Inquiring Minds'. 'Inquiring Minds' are curious and innovative.  They ask questions, they reflect and wonder and they think critically and creatively.
Respectful and Responsible – being 'Connected Learners'. 'Connected Learners'  respect themselves, others and the environment. 
They value relationships and how these support their learning.
Understanding and accepting – being 'Collaborative Contributors' 'Collaborative Contributors' know who they are and where they come from and are able to work with others to improve their learning.  They positively impact other people through their learning.

Email us!
admin@kkps.school.nz